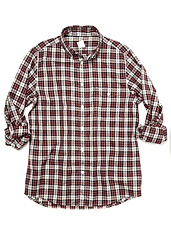 Pants. Shirts.
Generally speaking, finer establishments require that you wear both.
And while we're not really sticklers when it comes to rules, we thought you might want to know about a recent meeting of the minds between a shirt guy you know pretty well and some old-school pants people you probably haven't thought about since sixth grade...
Introducing the
Steven Alan for Dockers
collection, a new line of pants, shirts, blazers, ties and other fall staples, at Steven Alan Annex now and Barneys later this week, just in time for a run of autumn weekends.  
If you've been looking to cultivate the vibe of the devilish college professor who might just be dating one of his students, this is probably where you should start. The line is full of the preppy pieces you'd expect, but they've been altered just a bit: slim, tapered cargo pants in a bunch of faded-in colors, trim corduroy blazers with subtle elbow patches, spread-collar plaid shirts and other items that sound like you should wear them only while looking pensive and drinking a latte.  
And there are a bunch of little things like smartphone pockets and buttonholes on the backs of the ties so you can fasten them to your shirt buttons and they won't blow away while you ride your bike.  
Or teach Macroeconomics.