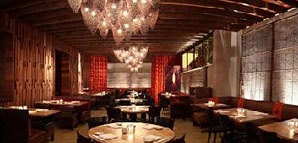 Even for a person of elevated stature (i.e., you), certain surnames instantly command respect. Like Matsuhisa. And De Niro.
So without hesitation, step past the eye-poppingly purple façade of
Nobu Los Angeles
, the newest outpost of the sushi legend, opening tonight.
Several eons removed from the mannered, white-linened L'Orangerie evenings that took place in this space for 30 years, the cutting-edge Nobu instead aims to finally address La Cienega's dearth of scene-driven restaurant-as-runway stops among neighbors like...Koi. And Republic. And
STK
. Offering key assistance to this truly pioneering endeavor are higher-ups from other Nobus—including partner Robert De Niro, whose presence is guaranteed to bring film-industry royalty and starlets (see: Ago on Melrose) even if Nobu Matsuhisa weren't such a revered sushi lord.
Once inside the David Rockwell-designed space, take your pick between the abaca-encased table under skylights at the rear of the enclosed courtyard patio, or a seat at the sushi bar in the red- and orange-hued main room. (Bonus points for mentioning the cocoon light fixtures to your date, or for noting that the water hyacinth panels were handwoven.) Yes, you can try the expected
Rock Shrimp Tempura
and
Toro Tartar with Caviar
, but this location also has a brick oven serving
Napa Cabbage Steak with Summer Truffles
.
And you've never been one to do the expected.