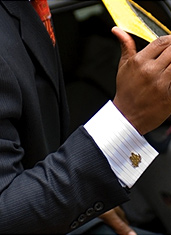 Your initials have a way of making things happen.
Put 'em on the dotted line, and packages are delivered. Buildings are constructed (or destroyed). Cocktail napkins are sold on eBay.
But dip them in gold, and something truly awe-inspiring happens: they hold your sleeves together.
Introducing
CuffHim.com
, a curious new website that turns your John Hancock into handsome cuff links, online now.  
Basically, this is exactly what you think it is: your handwritten initials, in cuff link form. Step one: you'll sign a piece of paper, which you'll then upload or mail in. (You can also fax it, but a quick look at the calendar reveals it's not 1997.)
Then, you'll approve your sample and decide if you want to go with one initial or two. (If your name is Frank Underhill, maybe go with just the one.) Using, we assume, the exact same technology that made
Avatar
possible, a 3-D rendering of your handwritten cuff links will be created.    
Here, in the third dimension, you'll want to make sure everything is crossed and dotted just right before picking out a precious metal for your links. The platinum, ideal for the hand affixed to a martini glass. For your Gordon Gekko Halloween costume, probably wise to opt for the 18k white gold. As for the full diamond treatment...  
This is the one time you don't want the full diamond treatment.