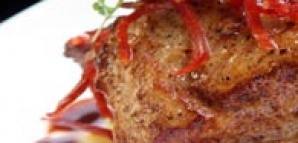 Sure, you've got all the requisite hotspots on speed-dial.

But sometimes, instead of going to the high-end food, you feel like the high-end food should come to you. (It's only fair.) Consider the tasty new delivery service Club Gourmet.

First, though, you'll likely need to alter your perceptions of home-delivery meals, which usually involve desiccated chicken, shriveled vegetables and "desserts" with the flavor of drywall. French chef Yves Vacheresse emphasizes the healthy organic-ness of his offerings, culled mostly from local sources, and a look at the menu provides reassurance that he's aiming admirably high. (He once fed Cary Grant, Gregory Peck and Sinatra on Fabergé's corporate plane bound for a royal wedding in Monaco. So he can probably handle this.)

For breakfast, maybe Baked Walnut-Yogurt Pancake With Caramelized Apples. For lunch, Fennel-Crusted Duck Breast. And for dinner, perhaps, Orange-Scented Natural Veal Osso Buco. (No meal is repeated over a month-long cycle.) Plans vary to suit individual needs, so Club Gourmet can be responsible for everything you put in your body, or just bring you lunch and snacks a couple days a week.

Since not all wining and dining can take place within your hallowed walls.