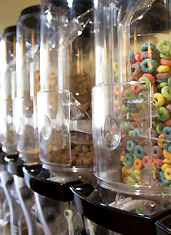 Some days, all you want is cereal.
Some days, all you want is grilled cheese.
Here to help on either day is
Mix n' Munch
, a little hideaway serving cereal and grilled cheese specialties, scheduled to soft-open this Saturday.
Inside, it feels like a cross between your grade-school cafeteria and the kitchen where you had a snack when you got home. At the counter, while
Saved by the Bell
plays on TV, you'll peruse 25 of your favorite cereals (Apple Jacks, Cocoa Puffs), to be mixed into a bowl however you see fit, with toppings like fruit, nuts, chocolate chips and even caramel sauce. Or trust the in-house experts and go with the
Chocolate Peanut Butter Delight
—it's Reese's Puffs, Cocoa Krispies, walnuts, chocolate sprinkles and marshmallows.
If you're feeling more sandwich-y, you can build your own grilled cheese masterpiece with everything from pickles to Spam, or opt for the
Mix n' Munch Cristo
with gruyère, turkey and ham on egg bread dipped in french toast batter. (Yes, your combo will come with tater tots and a glass of milk.)
And for dessert, try one of the four dessert sandwiches, like
The Elvis
, made with peanut butter, bananas and bacon.
No word on
The
Zack Morris
.