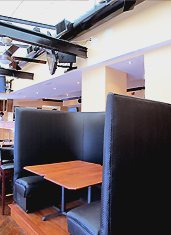 Come Sunday, say about 4:15pm, your needs will be simple and direct.
Several TVs. A dozen beers on tap. And a giant bowl of mac and cheese...
...laced with beer.
So say hello to
District 2
Bar & Grille
, a new sports-friendly neighborhood bar, opening Friday night in Cathedral Heights to serve all your big game needs.
To be clear: those sports bars with
Big Buck Hunter
and hockey sticks hanging everywhere have their place, but it isn't here. Instead, you'll find a 31-foot bar of African mahogany, five big screens and 16 taps flowing with everything from microbrews to Bud Light. Amidst the burgundy jerseys of your companions, you'll line up an array of bar snacks like fried pickles, spicy chorizo dip and Old Bay wings.
But there will come a day (let's call it Tuesday) when your concerns will be something other than the over-under. That's when you'll step down to the cozy lower level (it's still got seven more TVs, just in case), grab one of the big high-backed booths and feast on a civilized spread of fish and chips, beef stew and the aforementioned beer-soaked mac and cheese.
We hear it's how Clinton Portis spends his Tuesdays.