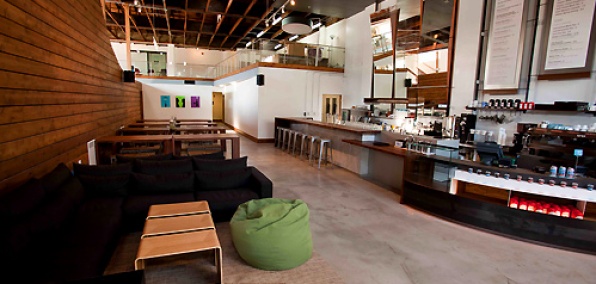 You've got some big ideas.

Some are obvious winners. (Your remake of Top Gun, starring you.) Some, less so. (The Canwich, a sandwich in a can.)

And some, well... they need a little more time in the oven.

Which brings us to The Summit, a new spot ideal for coffeeing, lunching and/or plotting world domination, opening Thursday in the Mission.

So the next time you need a sandwich, a beer or just a quick session to plan your next hostile takeover, you'll come here. The grub's cooked up by a guy who got his start as chefs often do: working as a mechanical engineer. But here, you'll find him working on slightly less complicated pleasures, like pastrami sandwiches for lunch, and chocolate pork and beans for dinner. (Okay, we said slightly less complicated.)

If it's a solo mission, you'll set up shop (and take advantage of the Wi-Fi) at one of the low couches (or the lone beanbag) in the front, or if you're putting together your own personal Ocean's 11, grab one of the long high tables toward the back. Then, after you've ordered up a round of Old Oak, you'll want to get right to work: startup incubator i/o Ventures is in the same building, and they're offering a $25,000 investment to anyone who successfully applies for their Startup Accelerator program.

Just note: someone already invented Facebook.