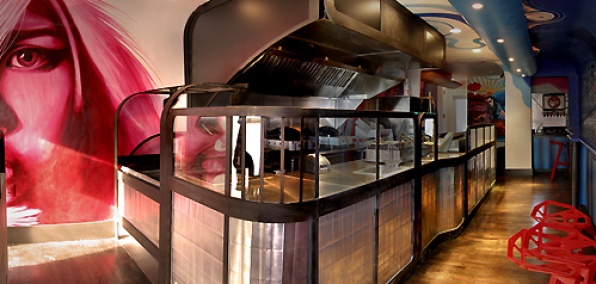 Lately, you've been fixated on two things: what the election results will do to your favorite appropriations rider.

And where you can find a streetside window for hot grab-and-go crepes at any hour.

We're still working on the former. Until then, there's the latter, otherwise known as Muncheez Mania, opening its crepe window in Georgetown this weekend.

Here's how it'll go down. You'll be walking up Wisconsin, inevitably from one pre-recess fund-raiser to another, when it will hit you: hunger pangs. Also: the unmistakable aroma of butter and Nutella. You'll stroll up to this large row house window, where a friendly chap manning two crepe irons will whip you up all manner of cheesy and/or sugary concoctions.

But return at another hour (they'll stay open till 4am starting later this fall) and you'll find something not unlike Kstreet Lounge, but with more fryers and pizza ovens. Think mellow house music and UV lights, illuminating wall-size murals of cityscapes and a woman's face in pink. You'll order some falafel wraps and flatbreads cooked on saj—basically an extra-thin pita cooked over a dome-shaped iron—and head to the rear lounge area for some cozy communal seating.

Nothing goes with crepes like cozy communal seating.