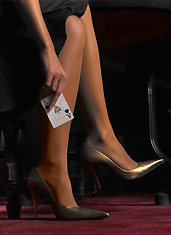 Things have gotten a little hot lately.
You're not welcome in Nevada (you owe Wayne Newton an apology).  
Monte Carlo is off-limits (Babette is still fuming).  
And fear of Snooki has kept you away from AC for two years running.
We have an idea. It involves baccarat. And Philadelphia...
Introducing the brand-new
SugarHouse Casino
, Philly's first legal vice den of the gambling variety, spinning roulette wheels starting this Thursday afternoon.
Now, before your thoughts drift into the towering neon palaces of vice in Vegas and Macau, let's be clear about one thing: SugarHouse is what you might call a boutique casino.
Set on the scenic, post-industrial banks of the mighty Delaware, it's the sort of small, businesslike den you've been looking for—when the goal is to unleash blackjack hell, go on a quick craps heater, bet on black and then hightail it out of there before Vito the pit boss notices your rack of chips.
There's all of 40 tables and 1,600 slots (compared to the 175 and 2,300 of, say, the Bellagio in Vegas), which just means you won't run the risk of stumbling into a Siegfried & Roy show while looking for a game of blackjack.
And when your pile of chips has reached eye level, you may consider interrupting your uninterrupted focus with a round of burgers and microbrews at the Refinery Bar.
It's the last place Babette will ever think to look.