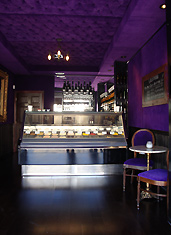 There's always that crucial moment.
That moment bridging the gap between great dinner date and... your place.
Here to help you build that bridge is a new little enclave for gelato and dessert wine—it's called
Gelatovino
, and it's now open daily until midnight.
Here's when you'll play this card: you're having a nice, low-lit, Italian-y kind of dinner, with candles and a bottle of red. (Maybe at Delancey, right next door.) But before you suggest showing her your collection of Vincent Price's capes back home, you tell her about this little spot you know for bourbon-flavored gelato and a glass of port.
When you arrive, you'll find a place that spills out onto Sunset, and you might recognize the old-timey tables and dark purple walls from back when it was known as Delancey's Wine Tasting Room. (The whole front wall has been cut out like a Greenwich Village record shop, and it seats about four couples inside and out, max.)
Duck inside and head to the counter, where you'll find six sorbet options like
Mimosa
and 18 gelato flavors like
Espresso Sambuca
,
Downtown Brown
(that's beer),
Butter Brown Sugar with Bacon
and
Bulleit Bourbon
, made with real bourbon.
There's also something crazy called "vanilla."