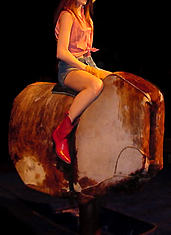 Your typical Monday. Always filled with all manner of randomness.
Spotting your ex during the morning L ride. An impromptu game of ping-pong in the conference room. Your executive assistant arrives in a meat dress. And he looks great.
But it's been missing one thing: Debra Winger.
Oh, and a mechanical bull...
Introducing
Mechanical Bull Rentals
, available for your bucking pleasure now.
So the scenario is this: after a busy season of white-water rafting, skydiving and competitive hot-tubbing, you're plotting new and interesting ways to make your next backyard get-together slightly more... potentially neck-breaking. You know, before it gets too chilly.
So you'll call Castle Party Rentals, a reputable outfit specializing in extreme party entertainment. An hour before your guests arrive, a couple of ranch hands show up with a regulation mechanical bull—complete with a cowhide exterior for added authenticity. They'll set it up, operate it and adjust the speed to your required skill level. (Ask for "The Travolta.")
But because the bull is surrounded by a 20-by-20-foot inflatable safety ring, when—we mean,
if
—you're thrown clear, you'll have a reasonably good chance of surviving.
Just try not to spill your martini when you land.