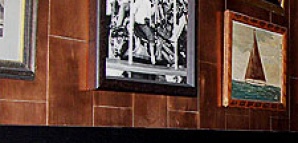 Sure, you're known as a connoisseur of refined cuisine. But sometimes you just need a casual, worthy restaurant named after a notably random animal.

Thankfully, Cobras & Matadors owner Steven Arroyo's latest addition to the family, Goat, is due to open Friday.

In the former home of Arroyo's short-lived Happi Songs Asian Tavern, Goat now feels more like the other outposts of his growing empire (Malo, 750ML, Sgt. Recruiter) as soon as you step inside—perfect for a low-key date or a dinner with friends. The tables are worn, the chairs don't all quite match and, below a pair of gothic chandeliers, the walls are covered with a carefully eclectic mix of pastoral paintings, mirrors and black-and-white photos.

Grab a seat by the windows and tend to the most important matter (beer or wine) before perusing the American menu from chef Robert Luna. You could stay simple with a sandwich, salad or burger, but if you're feeling adventurous there's the house special—Goat Confit with Warm French Bread. Less adventurous but still apropos is the Flash-Fried Goat Cheese and Figs with Brown Butter.

And as for the name—Arroyo praises goats as hearty, sturdy animals (really), but also recognizes that you might recall the famous acronym bestowed upon Muhammad Ali. (G.O.A.T. refers, of course, to Greatest of All Time.)

Better be one fine house special.