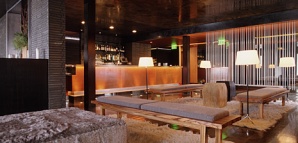 They say the only constant in life is change.

And so with laissez-faire cheer you welcome news that Hollywood standby Falcon has quietly evolved when you weren't looking.

Instigatingsaid changes: Chef Mario Manabe—who spent time behind the orange curtain at the well-regarded Aubergine in Newport Beach—and consultant Brendan Collins, a Melisse alum working with the famed Alain Giraud at Falcon's imminent sister restaurant, the "clock-tower brasserie" Anisette, in Santa Monica. (More on that soon.)

The result is a classed-up new menu with hearty, intricate choices that can compete with the neck-craning scene for your attention. We like the Caramelized Ricotta Gnocchi with Wild Mushroom Sage and the Grilled Shrimp with Edible Flowers. Or try the wood-oven Halibut en Papillote, cut from its paper at the table.

Unlike the menu, the loungy, come-late-and-stay-late vibe in the indoor-outdoor enclave hasn't changed. But the bartenders have also embraced the market vibe with new specialties like White Gold(which adds muddled Oro Blanco grapefruit, buckwheat honey, Shinseikipear and fresh basil to the most important ingredient, vodka) and the Casablanca (with candied dates dipped into bourbon and St. Germain Elderflower liqueur).

Or stick with your usual. Maybe some things never change.