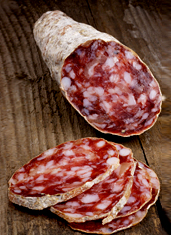 It's best not to play favorites.
But it happens...
So, not to knock vegetables or anything, but we can all agree that between a bunch of carrots or a slab of meat, meat will prevail. Always.
Which is why you should know about
Fatted Calf
, a deli-like sanctuary of all things meat, opening next week in Hayes Valley.
A cross between a butcher shop and a market with some craft beer and wine thrown in the mix, Fatted Calf is primed to be your source for a meatloaf sandwich, beer sausages and a custom-brewed house beer or two.
Pretty much the opposite of a typical white-tiled East Coast deli, this is a rustic, wood-and-brick tile affair loaded with various size refrigerators—each dedicated to housing cheese, beer and wine, or salads, links and charcuterie. And we should also say this: there's one refrigerator that stands above the rest: the big, glass-walled walk-in all the way back (under the wall of white vintage stove tops) showcasing a hanging pig, lamb and side of beef—all poised to be custom butchered on the fly.
Of course, if you just want something to grab and go, you're covered—like the
Bollito Misto
(braised pork belly, tongue and shoulder sandwich on ciabatta). And there's also their signature hot dog, topped with what they're calling "hog slob," a meaty concoction of beef, pork and beer.
When in Rome...