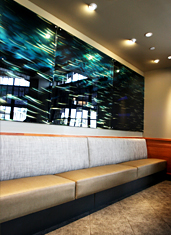 Reason number one to go to Napa: wine.
Not on the list: Maine lobster.
Not until next week, at least...
Introducing
Fish Story
—the sort of lobster-and-clam-fueled seafood house you'd expect to find back east, if Boston had a wine country—opening Monday along the Napa Riverfront.
Just a few doors down from Morimoto's new eatery, Fish Story will be your more casual hangout for winding down post-wine tasting. So while you normally don't think of Napa for seafood (the river isn't exactly teeming with shellfish or marlins or anything), the river provides just the right alfresco backdrop for a late Saturday lunch on the patio with a few bottles of chardonnay.
There's indoor seating in view of two large tanks, home to live lobsters and Dungeness crabs. And while the U-shaped bar near the 12-foot raw bar provides a good starting point, you'll want to park out on the deck by the water and sink into a fresh-caught Maine lobster roll. If you're looking to go a little bigger, think the
Moby Dick
—a platter of Maine lobster, Dungeness crab, 10 oysters, 10 clams, 10 shrimp and ceviche.
Which should hold you over until your next wine tasting.