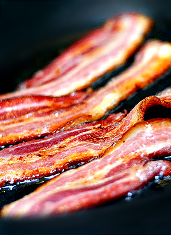 Some things are inevitable.
Sooner or later, you just knew you'd see Lady Gaga in a meat dress. Likewise, you just knew that one day you'd open up an email to find that there's a food truck dedicated solely to the glory of bacon.
And here it is:
Lardon
, soft-launching tomorrow and determined to make the streets of Los Angeles a little more bacon-y.
In this case, we don't really need to tell you the why, just the how. So
follow the truck on Twitter
, and when it happens to be in your 'hood (or when you happen to have burned some rubber to meet it), you'll be treated to bacon
morning, noon and night
.
In short:
Bacon Pancakes
to start, or a
Brioche French Toast Sandwich
with
Bacon Bourbon Maple Syrup
and crumbled bacon for the meat. At lunch or after work, there's the signature
Lardon BLT
, or
Chicken Wings Covered in Bacon Hot Sauce
... with hot sauce-covered bacon... and served with
Bacon Blue Cheese Dipping Sauce
. Don't worry, you can also order a side of bacon, three pieces in a paper cone. Yes, it's the
Bacone
.
And for dessert: a nice fruit cup. Just kidding—they've got brownies from Lark Cake Shop, topped with bacon Nutella spread.
And just like that, traffic got worse.
Note:
<a target="_blank" href="http://www.getyourlardon.com">Lardon</a>, soft-launching tomorrow, fully operational Monday, <a target="_blank" href="http://twitter.com/getyourlardon">follow on Twitter</a>, <a target="_blank" href= "http://www.urbandaddy.com/uploads/assets/file/pdfs//4f0d48a56e8ec7550325e901f18bb905.pdf">see the menu</a>