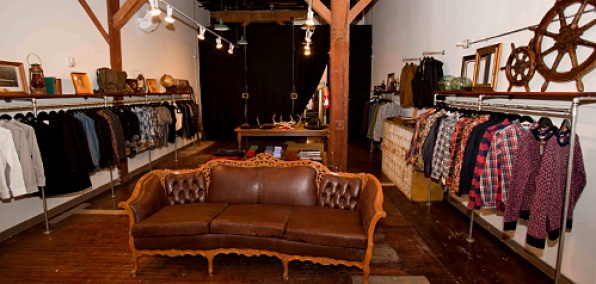 It's unofficially official: post-Labor Day puts us solidly into the fall camp.

And while we're banking on a few more bouts of summer over the next two months, this city requires having cold-weather gear at the ready for the days in between those bouts.

So, we've unearthed just the place to prep for the storm...

Introducing Welcome Stranger, your new under-the-radar outpost for high-end workwear ranging from reinvigorated heritage collections to more modern American brands, open now in Hayes Valley.

You won't find a big sign out front. Instead, look for two big windows decked with mannequins that look like they're outfitted for a fireside weekend in Tahoe. That's your sign.

Once you get past the bare, office-like entrance, it'll open up into a lodge-like den, complete with a dartboard, big leather couch and several sets of antlers scattered throughout. All of this means you'll be primed to run through dozens of flannels from Woolrich, Garbstore and Levi's Vintage, as well as waxed jackets from Gant.

On the flashier side are leather jackets and button-downs from Simon Spurr and outwear like wool cardigans and blazers from Billy Reid. Then, in about a month, they'll bring in a few citywide exclusives from brands like Naked & Famous, Fifth Avenue Shoe Repair and Filson—in addition to throwing their official opening party.

Which makes them officially unofficially open now.