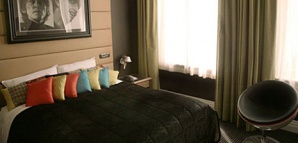 True musical icons have always inspired their most devout fans to pilgrimage.

But discerning traveler that you are, you figured you'd wait until the birthplace of legend sprouted a high-end hotel, thank you very much. Which makes this your cue to pay homage. Opening this month-in a moment of cosmic harmony—are tribute resorts to two undisputable classics. Pick your tune...

Marley Resort And Spa, Cable Beach, Bahamas
Bob Marley sought sanctum from the concrete jungle in Nassau, Bahamas, where his stately summer home overlooked a pristine stretch of Cable Beach. This month, the Rasta refuge reopens as the Marley Resort and Spa, widow Rita's shrine to the king of reggae. Swim with the dolphins or head to the Natural Mystic treatment rooms for one of Rita's "herbal rituals" (we're talking spa treatments, here). Each of the 16 suites takes a riff from a Marley song: for the acoustic addict, the oceanview terrace of Lively Up Yourself overlooks nightly performances on the courtyard stage; if you're a party of two, the One Love suite offers an in-room, dual-capacity whirlpool tub, twin rainfall showerheads, wet bar and customized king-size bed. In other words, the perfect place to turn your lights down low.

Hard Days Night Hotel, Liverpool, England
Across the Atlantic, the Beatles' birthplace celebrates 2008 as the EU's designated "Capital of Culture"—so it's the perfect time to salute the Liverpudlians who put it on the map. Hard Days Night Hotel opens this month in the city's historic Central Buildings, transformed into a 110-room, four-star rock cathedral, where Beatles relics adorn every room. Get back to the Brits' roots next door at the Cavern Club, their pre-Invasion stomping grounds, or come together at the hotel bar for a Fab Four-four shots of Louis XIII cognac topped with a bottle of Cristal, for a cool £750. Depending on your loyalty, spend the night in the Lennon suite, with its own white piano, or the McCartney, which houses Sir Paul's full suit of armor.

In either one, you'll be sure to get a sound sleep.