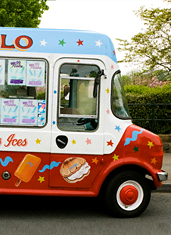 You love to stay current on all the day's most pressing topics.
The Middle East. The environment. Mobile tacos.
So we thought you'd want to know: this Sunday, there will be street-food mayhem.
Introducing
Street Food at Fall for the Arts
, a one-day-only event happening this Sunday downtown.
Oh, sure, you could head to a bar on Sunday and watch the Dolphins run rampage over the lowly Bills. But the football season is long. A street-food bonanza of this magnitude comes around but once a generation. (Or maybe once a year.)
First thing you'll want to do is get an appetite. A big, big appetite. Then, proceed to the Arsht Center, where for six hours you'll have access to a sort of renegade outdoor food court, featuring over 30 of the city's top street-food merchants. This includes food trucks like GastroPod, Jefe's Original Fish Taco and Burger, and even a few soon-to-launch wagons like Sakaya Kitchen's Dim Ssam à Gogo and the Garcia Brothers' fried-shrimp specialist, The Fish Box.
Our suggested game plan: start off with lettuce wraps filled with popcorn shrimp from Dim Ssam, move on to spicy wings from Wing Commander, segue to a BBQ rib from Joy Wallace and end with frozen bananas courtesy of an outfit called Totally Bananas.
We don't know where they got the name.