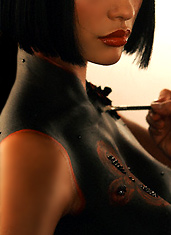 Your nights out are well crafted. Finely detailed. We'd even go so far as to call them works of art.
But not literally. At least not until next week.
Presenting
ArtJamz
, a new event that's part painting class, part late-night cocktail party, beginning its fall session next week.
Basically, this is a blank canvas for your next masterpiece of a night out. You'll arrive at 7pm at a raw, ground-floor space in a brand-new NoMa apartment building. Your attire: a not-so-brand-new getup of old jeans, your threadbare Perot for President T-shirt and a painter's cap. Over the strains of DJ'd music, you'll pick up a canvas, brushes and all the paints you can handle, set up at an easel and get to work creating whatever pops into your head. (If you're looking to experiment with nudes, it's BYO model.)
Meanwhile, you'll grab another beer or wine from the bar every time your right brain needs some extra coaxing. You can also expect a rotating cast of hors d'oeuvres (we have it on good authority that ceviche and empanadas may make an appearance). Then, after four hours of painstaking creativity, you'll be ready to unveil your work. We think it might be your best.
Yes, even better than
Living Room Wall
.