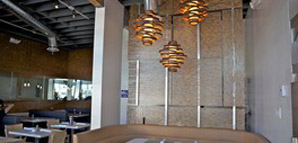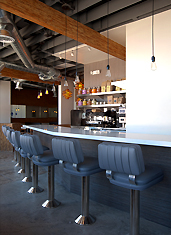 Finally, the holiday weekend is here, and you've thought of everything.
Vodka-infused sunblock. Boat shoes that double as barbecue grills. A totally believable alibi to get you out of work on Tuesday.
Only one thing left―a brand-new brunch spot to keep you fueled up throughout.
That would be the much-anticipated
K2
, finally soft-opening tomorrow morning in Silver Lake.
Basically, on the weekends, this will be one big brunch party. Grab a table on the sidewalk with your friends, leave the shades on and summon some coffee and
Catfish and Eggs
, or a hearty plate of
Kokomo Chicken and Waffles
(four pieces of honey-flavored chicken, malted vanilla waffles) to go with your sordid tales from last night.
But during the week, this will be your easy, diner-style spot for whenever you get hungry... or whenever your laptop battery dies at Intelligentsia next door. Think omelets in the morning, a
Bourbon BBQ Steak Sandwich
at high noon and some pork ribs and peach cobbler for dinner.
And if you're wondering why you see the word
Kokomo
used in so many menu items, it's because this is a sibling restaurant to the Kokomo Cafe on Beverly Boulevard—the place that doubles as the Peach Pit on the latest incarnation of
90210
.
So that cobbler is Nat-approved.