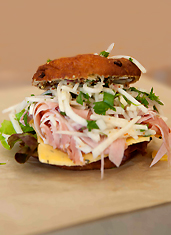 There are only a few truly grand moments in life.
Occasions so monumental that you look back on them for years to come with reverence and awe.
Okay, this isn't one of them. But it at least qualifies as somewhat epic...
Behold: the
Donut Sandwich
, an innocent-enough ham and cheese sandwich tucked between a sliced Dynamo donut, available right now (and only until 2:30pm) at Pal's Takeaway.
Now, before you go on thinking about some of the bacon donut burger bombs out there, or lamenting the demise of self-control, you should know that this one is quite a bit more civilized, as far as donut sandwiches go.
In this case, it's a cornmeal cherry donut studded with rosemary (no glazing, no sprinkles, no strawberry frosting) that's sliced open and packed with ham, Cotswold cheese (a cheddar-like cheese with onions and chives) and jicama slaw. And, at about three or four inches in diameter, this donut-wich is smaller than most conventional sandwiches, which means you just might want to opt for two (size aside, you'll want two).
The owner of Dynamo Donuts (and inventor of the
Maple Glazed Bacon Apple
donut) masterminded this lunchtime treasure as part of Pal's weekly guest chef series, but you can expect it to resurface in the near future.
Good things never die.