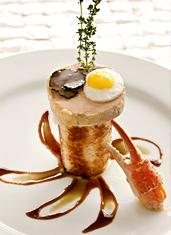 It happened, you did it. You convinced Sofia Vergara to go out with you. (Granted, you said you were a reporter for
Angeleno
magazine. But still.)
Now all you have to do is find a culinary vantage point to blow her mind...
Allow us to suggest
Tasting Table at Restaurant
, the Sunset Marquis Hotel's new best seat in the house, now taking reservations.
To commence with the sweeping-of-the-feet, you'll start by arriving at the hotel and making your way past the elegant paths, lush gardens and stumbling rock stars to the secluded indoor/outdoor resto. Tell them you're here for the Tasting Table, and you'll be shown to a table in the middle of the room—it'll be the one with operatic pictures on the plate rims, and Swarovski-covered crocodiles guarding the napkins. (Subtle.)
From here, you'll make her laugh over five courses of French-Asian-ness, something the chef whipped up for your table and your table alone. Think:
Black Truffle Terrine with Goat Cheese Fondant
. Or:
Crispy Duck in Pancake with Porcini Mushrooms
.
And if she insists on bringing her reps, you'll be happy to know this table can accommodate up to six people. You can even have it set up somewhere else, like out by the pool, in the hotel's Secret Garden or within the Presidential Villa.
Go ahead: let Sofia call you El Presidente.
Note:
Tasting Table at <a href="http://sunsetmarquis.com/sm_restaurant/restaurant.shtml" target= "_blank">Restaurant in the Sunset Marquis Hotel</a>, $110 per person, reservations required at least 24 hours in advance, 310-358-3759