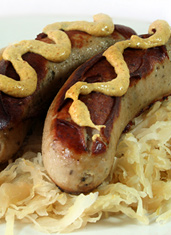 Finally, it's Friday.
And you're thinking about your weekend. Which means you're thinking about bratwurst.
Here to help you with that is a new Los Feliz neighborhood spot called
Papa's Place
, soft-opening tomorrow.
Basically, this is what will happen. You'll be walking up Hillhurst, minding your own business, when suddenly you'll be hit with the wafting scent of succulent sausage from what used to be a nondescript tailor shop. (Once manned by the owner's dad, hence the name.)
You'll be compelled to follow your nose inside, where you'll order from a wide range of Turkish and German-leaning curiosities—a brat piled high with sauerkraut, or a
Pickled Beef Tongue Sandwich
with fries. Take it to-go or grab a stool outside by the window.
Of course, you'll probably want to follow this up with something sweet. Fortunately for you, the deli case is also stocked with European desserts filled with apricots and figs—aphrodisiacs known affectionately as "Turkish Viagra."
Note: if you experience any side effects, you might want to lay off the pickled beef tongue sandwiches for a few days.
Note:
<a target="_blank" href="http://www.papasplacelosfeliz.com">Papa's Place</a>, soft open tomorrow only, fully open Aug 30, 323-913-0478