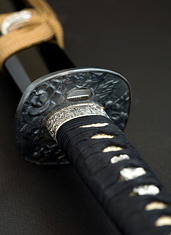 You're no stranger to the ways of Asia.
You've summered in Vietnam. You can speak fluent Japanese. You've seen
Shanghai Surprise
twice.
But there's one thing you still haven't mastered: swordplay.
All that will change with
Shim Gum Do Sword Training
, a blend of the best parts of sword fighting and mind-clearing meditation, now happening in a temple in Brighton.
Like Uma Thurman beseeching the wisdom of a master in
Kill Bill
, you'll be under the watchful eye of Chang Sik Kim, a 60+-year-old Korean Zen master who spent his formative years in a monastery and later developed and founded this ideology (it means "Mind Sword Path") in the 1970s. (So yes, you read that right: this is the world headquarters for Shim Gum Do, and your instructor is the man who invented it.)
You'll start off with wooden swords and learn the basic forms and moves from your battle-tested sage (it may help to rent all of Akira Kurosawa's films ahead of time). You'll also be taught weaponless, open-hand fighting moves and enlightenment meditation techniques. (One must be a well-rounded badass, after all.)
As your abilities improve, you'll eventually move on to real, single-edge swords similar to a katana blade, which were designed by your teacher and handmade by a Korean sword master overseas.
No, his name isn't Splinter.