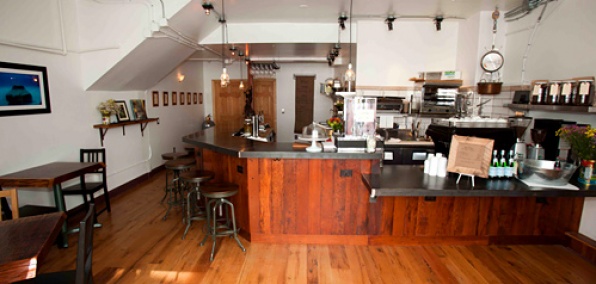 Sometimes it's good to be a chameleon.

To fly under the radar just enough. To be a sort of hidden gem amongst peacocks...

Which brings us to Darwin Café, a closet-size nugget of an all-day café and tapas bar tucked away on Ritch Street and dishing out dinner in sizzling-hot skillets, coming out of the woodwork now.

By the sound of it, you might think this little alleyway retreat was named after that somewhat-cutthroat naturalist, but actually it takes its name from the motorcycle showroom it recently took over. Which might explain the raw-steel L-shaped counter that makes up the majority of the space (save for one deuce and a single four-top).

Sort of like a locals' hangout in Barcelona, Darwin is the kind of place you could sit for hours noshing on small bites and sipping on Rioja. It's also an easy morning den for coffee and breakfast baguettes, or midday hideout for a Bitburger and Pulled Goat Sandwich with Chipotle Cream.

Then, while others would use plates, dinner becomes a skillet-only pursuit. That's when Braised Goat and Lentils or Seared Scallops and Serrano Ham show up in a six-inch cast-iron skillet placed on a plank of reclaimed barnwood.

So, while breakfast and lunch are primed for takeout, dinner is a completely sit-down affair.

For some reason the skillets don't travel well.