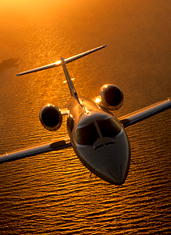 Let us paint for you an all-too-familiar picture:
You're recharging with a long weekend vacation in Barbados (crystal-clear waters, strong island sun, Barbadians). When suddenly business calls... all the way from Tokyo.
No need to panic. Relax. Finish that last chapter in your book. Take your time with that mai tai. Just reach for your phone. Press a few buttons. And a logistical crisis is averted.
Welcome to the
Blue Star Jets Mobile App
, a free mobile service that lets you quote and reserve a private jet from nearly anywhere in the world.
Think of it as what Bruce Wayne would use whenever the Batplane is on the fritz. Here's the deal: first, you'll download the app to your smartphone of choice. Then, when you find yourself requiring the services of a Lear—maybe you're judging a mountaintop beauty pageant in Borneo, and they desperately need your judging skills in Helsinki (Trump dropped out)—you'll fire up the app, and enter in when and where you need to go.
Once you decide that, you can view a list of all jets in the Blue Star fleet that are available for flight. (You never arrive anywhere in anything less than a Hawker 1000.) Depending on how exotic your itinerary is—say you need a helicopter airlift out of the Amazon jungle (you have your reasons)—it may require up to four hours to have your craft ready for takeoff.
Feel free to order another round before packing.