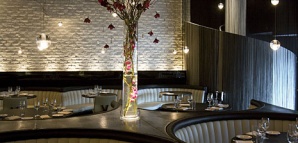 Occasionally, the next big thing is served medium-rare.
So time has come for a slab of appropriately prepared news on
STK
, the new scene-driven, vowel-averse steakhouse arriving from NYC today in the former home of Bridge.
Like its sister restaurant
ONE Sunset
, STK will provide a loud, leisurely vibe that's more suited to chatting up your neighbors than softly breaking intimate news to your date. There are three spaces that flow together, though each is distinct: You might be most content in one of the curving, connected cream-colored leather booths in the raised main dining room, or at a table in the smaller, purpler Bistro Room with direct, semi-private elevator access...or in the loungiest of the three, the connective central atrium with a DJ station, towering bar and glass roof far, far above.
And, oh yes—the food. You'll recognize the same small, medium and super-sized cuts of beef from the NYC incarnation, with California-friendly options like the
Diver Scallops with Miso Caramel
,
Asian Pear and Puffed Rice
added for good measure. But back to the nightlife—the other section you might recall from the Bridge days, the front bar and streetside covered patio, is now curtained off and hidden away, with a separate entrance and clusters of colorfully mismatched furniture. It'll soon be known as Coco de Ville. Stay tuned...
Might be the next next big thing.