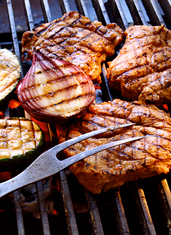 There've been brief signs of it...
Blue sky. The pop of golden rays. A few sundresses here and there.
We're going to go ahead and officially recognize grilling season.
At the ready to take advantage of these precious few weeks: the
4505 CSA Meat Cooler
, a monthly meat club delivering top-notch, ready-to-grill cuts of meat by the five-pound lot, taking orders for the first time Monday for a Labor Day weekend pickup.
If you've been looking for an old-school butcher with a penchant for offbeat meat parts and the willingness to come to you, chef/master butcher Ryan Farr is your guy (after all, he invented the deep-fried mac-n-cheese
FrankiRoni
hot dog).
And since he's behind the meat locker, you can expect some similar unexpected finds in each shipment. (We hear rumors that the turducken poultry masterpiece will appear on the November menu.)
This month's is all about grill bombs like grass-fed steak, heritage pork, bacon-studded hot dogs, beer sausages and cheddar bratwursts. Everything's been brined, marinated and rubbed, so all you have to do is unwrap and toss it all on the coals.
Pre-orders start Monday—and while there's an entire cow and whole pig's worth of meat to go around, you'll probably want to call on the early side.
Patience doesn't mix well with cheddar bratwurst.