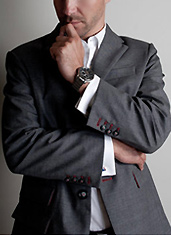 It's actually sunny now.
But you never know when the winds will whip up, the fog will roll in, and we'll be in a soupy freeze.
Or when you'll inspire an impassioned toss of cabernet in your direction.
Either way, you'll want to be prepared. And you'll want to look good doing it.
Introducing the
Invincible Jacket
, probably the most functional waterproof, wind-blocking, stain-repellent, wrinkle-resistant wool blazer we've seen in a good long while, available online now at Saboteur.
On the outside, this jacket—made of breathable gray wool and 100% silk lining, and designed with thoughtful details like contrast-stitch red buttonholes—looks like any tailor-made blazer on the market. But actually, the best attributes—high-tech water- and wind-blocking, anti-wrinkle and anti-stain fabric, iPhone pockets—are not readily evident to the human eye or touch (as the best attributes usually are).
Which means, the next time you're wearing this jacket and are taken off guard by the elements—wind, water, wine—you'll just brush off your blazer, as if it never happened.
Because it never did...