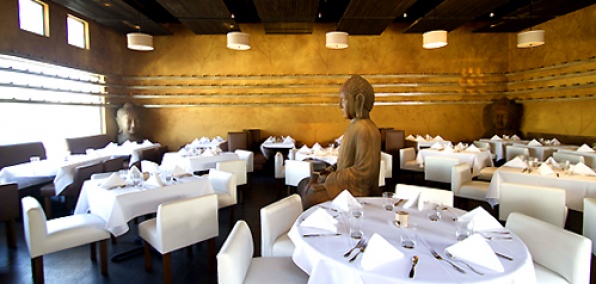 Picture it: you're at the Grove, you've got your movie tickets, and you're starving—but you can't deal with the swarms of shopping bags and ankle-biters in the Farmers Market.

It might be time for an on-foot sojourn further west, for a Buddha-approved den of mango vodka and curry. Welcome to Rama, a new Thai spot soft-opening Friday on Third Street, just steps from the Grove.

Think of this as the new spot with a trifecta of fun, Thai-related features. Namely:

1. A central enclosed patio, totally hidden from the street, for your afternoon drinks or that pre-movie dinner under the setting sun.

2. A simple beige-y dining room, which works for a quick lunch, especially when you need some A/C to go with your curry, Coconut Lemongrass Shrimp off the charcoal grill or the Five-Spiced Braised Pork Belly. Buddha himself approves—he's sitting right there in the center of the room.

3. A sprawling lounge, perfect for when all you need is a couple Thai beers (Singha, Chang) or a generous helping of vodka that's been house-infused with basil, mango and/or lychee. It'll be even more comfortable when happy hour starts next week at 4pm.

You've been looking for a new post-matinee spot...