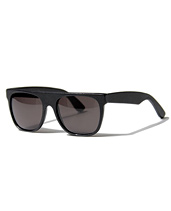 We're going to talk about a subject that's near and dear to you: your face.
You're doing a good job with it, don't get us wrong. Washing it. Taking it to all the right parties. But sometimes, it could use a little help to look its most... Roman.
For that, we introduce
Super Flat Top Leather Sunglasses
, a stylish line of shades wrapped in supple Italian leather, available now at RSVP Gallery.
These are the latest creation from an Italian company, Retrosuperfuture, that has made it its mission to bring back the carefree, restless energy of 1960s Rome. So, naturally, they started with the coolest part: sunglasses.
Their basic styles are imbued with their own retro panache—sharp edges, round lenses—which is fine when you're doing things like trying to avoid squinting while sinking your toes in Trevi (or Buckingham) Fountain.
The leather version, however, increases the handsome factor by wrapping the frames in a fine, soft Italian skin with colors that range from jet black to sand. These are the glasses you'll want to have on as the sun goes down and you find yourself on a Vespa, Monica Bellucci holding onto your waist, as you're being chased down by the paparazzi.
Those flashbulbs can be blinding.