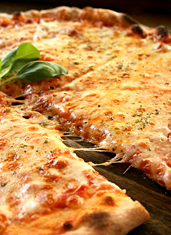 When you think of coal, images of West Virginia, naughty children at Christmastime and a miner's daughter or two probably come to mind.
But honestly, coal didn't really matter until today...
Introducing
Tony's Coal Fired Pizza and Slice House
—a dime-size outpost that's the city's first coal-oven pizza joint—opening next week next to
Tony's Pizza Napoletana
.
Designed to be a quick stop any time of the day or night for all your thin-crust pizza eating needs, Tony's is loaded with New Haven-inspired charred pies and customized Roman-style slices doled out by the meter.
You'll see that more than half of the space is now devoted to two gigantic pizza ovens: the flame-throwing 1,000-degree coal bad boy and the RotoFlex that holds nearly two dozen pies that'll be served by the slice. And the oven makes all the difference: the high temps from the coal penetrate your pie for a smokier taste and a little char.
But the ovens also leave little room to put down roots: there's only one singular prime corner booth next to the antique Coke machine. So if you can't decamp there, grab a pie—or a pastrami Reuben—to go and make for Washington Square Park.
Supremely located within reasonable proximity for seconds.