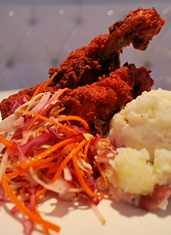 Fried chicken and waffles. So far, so good.
Okay, now remove the waffles. And insert red velvet cupcake. And now... brace yourself.
Allow us to present
Red Velvet Fried Chicken
, a Southern-fried classic that defies both categorization and logic, now available at American Cupcake.
At first glance, it'll look like a heaping plate of leg, thigh and breast. But upon further inspection, you'll see that the chicken has taken on a slight reddish hue. That's because your precious fried bird has been pre-soaked in AC's signature red velvet cake batter, then dredged in toasted, crumbled bits of red velvet cupcake before being dipped in a frying pan. You know, as one does.
And because a regular red velvet cupcake is topped with cream cheese frosting—and in case this thing wasn't crazy enough—this poultry version is accompanied by a hefty scoop of cream cheese-infused garlic mashed potatoes.
Now, you should know that this fried masterpiece is not officially on the menu until Friday, but they'll gladly whip up a dish if you ask for it, thereby giving you a two-day head start to get ahead of the masses.
When it comes to cupcake-fried poultry, you always want to stay ahead of the masses.