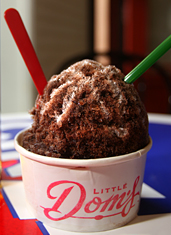 You've got such fond memories of childhood summers past—towheaded sprints through idyllic sunlit fairgrounds, with colorful cups of shaved ice to cool you down.
Only one thing could've made it all better: lots of rum.
Introducing
Alcoholic Sno Balls
, a secret new way to cool your summer down a few degrees, now available at Little Dom's in Los Feliz.
Think of this as edible nostalgia—with the marked improvement of providing you a pretty solid afternoon buzz. Take a seat at the bar, back in a corner booth or out on the bustling sidewalk under the streaming LA sun.
And instead of your usual wine or Sazerac to go with your meal, today you'll be having the
Coconut Cream Sno Ball
, a paper cup filled with shaved ice and some evaporated milk that's been infused with toasted coconut and simple syrup. Oh, and a healthy pour of Old New Orleans Cajun Spice Rum.
There's also a
Chocolate Sno Ball
, with the ice, the rum, simple syrup and Valrhona cocoa powder.
Also known as the second round...