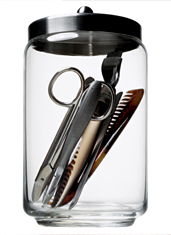 You're having a very busy day. You're saving lives. You're making deals. You're ripping off your coat, loosening your tie and climbing up a tree to save that kitten.
Also, in a true act of heroism, you're squeezing in a haircut and a shave.
It helps, of course, when the barber comes to whatever tree you happen to be up in at the moment: meet
Mimi's Onsite Barbers
, the barber's answer to fast-food delivery, now sharpening her shears just for you.
Now, you wouldn't trust just anyone wielding a straight-edge razor to come into your office, yacht or yacht-office. So rest assured that Mimi is a fully licensed specialist with experience at Truefitt & Hill and Halo, where her scissorwork was featured in an
Oprah
makeover episode. (No, Stedman wasn't involved.)
When you have a free half-hour for a haircut and an additional 45 minutes for a shave—i.e., during your next conference call—that's when you schedule your appointment. Your face will soon be ensconced in warm towels and hot lather, followed by a soothing layer of cocoa butter... and then you're free to return your freshly shorn self to the world.
Plus, Mimi happens to be a character actress (including a bit part in the upcoming Ron Howard/Vince Vaughn movie). That means if you're asked for those quarterly projections at a moment when your face is otherwise occupied, she can cover.
She does a really good you impression.