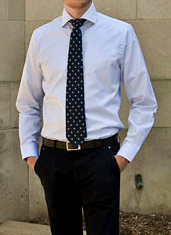 We've got to admit: you've cut quite a figure this summer in your shorts and pastels. But it won't last forever.
When September hits, you'll need something equally striking. Shirts are a nice place to start. We're thinking something dark and bold... and inspired by 1800s outlaws.
Which brings us to
Hugh & Crye
, an under-the-radar hookup for your next great shirt, making their brick-and-mortar debut this weekend at the Temporium on H Street.
First things first: these Georgetown guys—one from the London School of Economics, one from UMD—emphasize a good fit. So depending on your body type, you'll pick one of six sizes, ranging from "Short Broad" to "Tall Lean."
Next, you'll want to think beyond the standard blue and white office shirts. Take the
Great Escape
—a grayish spread-collar number, ideally paired with jeans for your next cocktailing saga down U Street. Or the new, Hef-worthy
Girlfriend Shirt
(perhaps best to keep the name to yourself) with a pajama-style fabric. And for when you're cleaning up a lawless town, there's the
Stripes Templar
, a gray and white shirt with a Doc Holliday-style rounded collar.
Next month, the boys at Hugh are launching a line of stylishly thin cotton ties to match, running from black micro check to fuchsia gingham.
That last one's big with Michael Irvin.