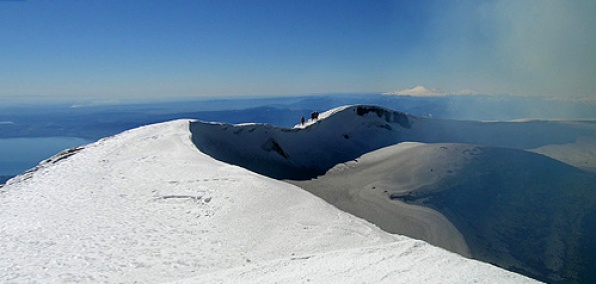 Ah, volcanoes.

You've seen the lava. The sudden eruptions. The mediocre Tom Hanks movies. And yet, something compels you forth, to conquer the great beasts.

Hint: that something is skiing...

Welcome to Ski Pucon, a resort based around Mount Villarrica, one of Chile's most active volcanoes, open for skiing and boarding now through October.

You'll start by flying to Temuco, in the southern part of the country, and then shuttling two hours to the resort itself. There, you'll bed down at Hosteria de la Colina, where you'll enjoy a panoramic view of Villarrica Lake and the snow-covered, occasionally smoke-shooting 9,341-foot volcano.

Take your time. Sample the relaxing hot springs. Enjoy the 20 ski runs. And then, when you're ready to get serious, head for the highest lift. Keep in mind, though, it's a two-hour hike from the top of the lift to the crater. (Don't look down.)

The payoff comes when you scale the peak, and peer through the bubbling magma into the fiery abyss of a volcano that most recently blew its top in 1971. When you've gotten your fill of nature's fury, you can savor its beauty in the form of an epic 5,380-vertical-feet descent—over intense cornices, through lava flow half-pipes and down steep, treeless slopes—back to the base of the mountain.

Vintage Meg Ryan not included...