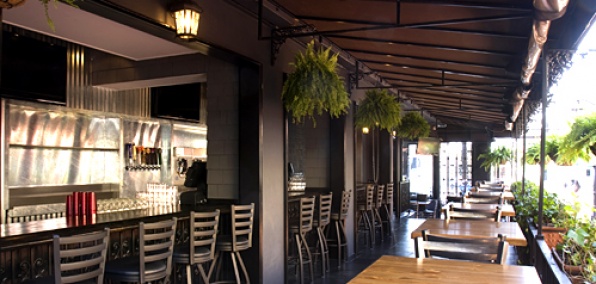 The Big Easy is a truly special place—po'boys, jambalaya, frozen daiquiris—and it's conveniently located right on Hollywood Boulevard.
Or it will be as of Thursday, when a breezy New Orleans-style patio bar called
Five0Four
is set to debut.
The vibe here is simple and carefree—it's a long courtyard patio filled with lanterns, misters and plantlife, dominated by a bar with five daiquiri machines pouring rotating flavors from strawberry to Arnold Palmer. (The look's from Kris Keith, who also dressed up
Te'Kila
next door.)
Come at 11am for hot chocolate and beignets, and stay as long as you like—there's plenty of sunshine and they've got free Wi-Fi. If you're dropping by later with some friends, you might want to grab a table in the back (away from the Walk of Fame tourists) and summon some
Catfish Po' Boys
,
Chicken and Sausage Gumbo
and
Bourbon Street Bread Pudding
. Anytime you need a break from your daiquiri rotation, a
New Orleans Fizz
awaits (it's gin, cream, milk and powdered sugar).
And when it's time to pay up, you'll notice they take the name seriously (504 is New Orleans' area code). The receipt's got an extra line on it—toss in a few more bucks and that'll go straight to a charity helping the city's recovery efforts.
Your jambalaya addiction just got more noble.