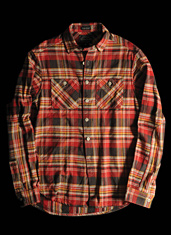 We know.
This time of year, someone mentions clothes, and the first thing you think about is how soon you can strip them off and dive into a large, cold body of water.
But soon, things will change. Stay poolside. But stay vigilant...
Because we'd like to introduce you to
Unionmade
, a smartly curated shop out of San Francisco, now peddling their wares online for the first time to handle your fall ruggedness needs.
Think of it as your go-to for stocking up on fall gear, from a store with an appreciation of the handmade, the well-designed and the timeless. Also: jeans. It's from a city that feels like fall... well, pretty much year-round. (Today's forecast: high of 58°.) You'll find the same rugged goods you'd find in the brick-and-mortar version, from The Hill-side's chambray ties to puddle-ready boots from Quoddy to exclusive baseball-style jackets made with Golden Bear. In short, it's what Crash Davis would've worn around town, if
Bull Durham
had been about minor-league lumberjacks.
You'll also find a
new kid on the block:
Taylor Supply, a fresh-faced line out of NYC. They've taken some of their style cues from motorcycling, so you'll find waxed cotton motorcycle jackets that are more Bob Dylan '66 than Hells Angels.

And since you'll need to wear something underneath your jacket—usually, at least—you'll find plaid flannel shirts with a watchmaker's attention to detail (each one comes with individualized buttons).

Okay, now you can dive back into the pool.