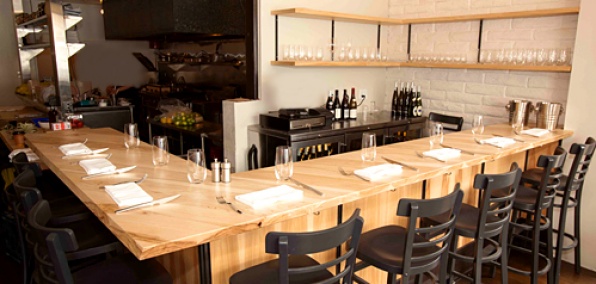 Things seem so temporary lately.

Food comes and goes on trucks, shops pop up and disappear, and happy hours inevitably give way to regular hours.

And while we often endorse carefree spontaneity, sometimes you just want someone to put down roots. And feed you some liquid nitrogen...

So we're happy to bring you Commonwealth—the full-fledged, full-time restaurant version of Mission Street Food, dishing out hedonistic plates of new American fare with sparks of molecular gastronomy and goblets of vino, opening in the Mission this Tuesday.

Since it started out in a dive-y Chinese restaurant, you might expect something on that level when you first arrive, but there will probably be just a glimmer of recognition. The spot is swank and minimalist with white brick walls, blown-glass globe light fixtures and bleached wood tables that hearken back to the free-loving days of the '60s (and by free love, we mean... well, you've seen Mad Men).

The whole thing feels like a well-run dinner party, just with a view: the L-shaped bar dips into an exhibition kitchen that churns out a nameless slushie-like, liquid nitrogen-treated wine cocktail aperitif, marrow-stuffed squid and steaks with crushed fingerlings.

And in a magnanimous twist, the restaurant is partly nonprofit, with proceeds from the six-course tasting menu going to charity.

What some people call dinner, you call volunteering.