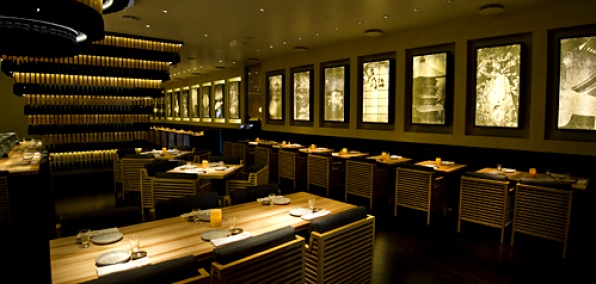 Your arsenal of date spots is something approaching legend.
But you've never been one to rest on your date-spotting laurels. So when a sleek new minimalist den of sushi debuts, you need to know now.
Say hello to
Ozumo
, opening today in Santa Monica, just in time for your weekend rendezvous.
This is a place by the beach—on the same sprawling roof deck as
Zengo
—but it's all indoors here, under a low-lit cloak of bamboo, dark woods and photos of old Japan. (Just like your ex's apartment.)
Start things off in the sake lounge—with 100 imports on the list, you might be there for a while. But if you want to speed things up, order a round of
Sumokazes
(it's an Asian spin on a Kamikaze, but with yuzu lime and a shiso leaf). Or there's the
Giddy Geisha
, a vodka-lychee-passionfruit concoction that would fuel
Sex and the City 3
if the ladies storm Tokyo next time around.
When you're suitably sake'd, adjourn to your table at the back, where you'll summon
waves of sashimi
, robata-charred meats and the
Gindara
—it's miso-glazed black cod, and it's big at the original restaurant in San Francisco, which is an institution.
Sort of like Haight-Ashbury, only not at all like that.