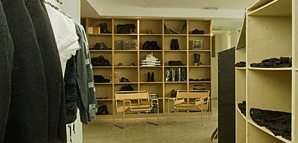 A few assumptions can be drawn from a clothing store that's meant to be "all about New York."

First, you can expect it to feel as though you've stumbled upon another minimalist art gallery, given the huge industrial roofing-felt sculpture winding down the center of the store. Second, in a bold and shocking move, the clothes are almost all black.

Which will no doubt simplify shopping when you hit Oak, the eagerly anticipated Williamsburg transplant, just opened on Bond Street.

The store is narrow and the merchandise well-curated, which means you won't be overwhelmed by shelves filled with neon polos, animal print belts or other things you won't be wearing. Instead they carry a mix of mass market and edgier labels—owner Louis Terline's favorites include Harmon, Hyden Yoo (a new "Wall Street banker meets hipster" line) and the Oak house label. Accessories include Bedstu burnished suede cap-toe oxford shoes and deadstock Casio calculator watches (to really bring the banker-meets-hipster look full circle.)

And just in case the concept seems a little out there, Terline and co-owner Jeff Madalena don't take it all too seriously: "We're not nearly as intimidating as the whole thing looks," Terline says. "It's just clothes."

We're as relieved to hear it as you are.