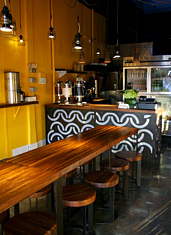 LA can do Mexican food better than anywhere else in North America. Everyone knows this.
And yet... there has always been a shortage of Mexican places in LA that'll sling you some warm fried chicken and waffles every Sunday.
Until now.
Introducing a tiny new wonder called
Tinga
, now open on La Brea.
It's an eclectic little taqueria on the same patch of road as American Rag, where you can come in and grab a seat at the communal table for
Chicken Tinga
(chicken cooked in a stew of tomato chipotle, pickled onion and crema atop two crispy tostada shells) or tacos slathered in dog-snout salsa—so named because it's so hot it'll make your dog's nose run.
But every Sunday, this place finds another gear. Because that's when they'll fry up chicken, drizzle it in a tequila syrup and serve it on a bed of buckwheat waffles made with horchata batter—otherwise known as a whole new south-of-the-border spin on fried chicken and waffles.
And depending on their mood on any given Sunday, they might also surprise you with
Pan Dulce French Toast
(that would be Mexican sweet bread with homemade
dulce de leche
) or some jalapeño poppers stuffed with Humboldt Fog cheese.
Soon, they'll even offer back-alley curbside pickup.
If you don't want to be seen betraying Roscoe's...