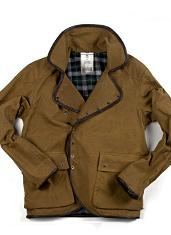 We don't want to badmouth progress.
But we know that sometimes you don't want to think about the future and robot butlers and flying limousines. Sometimes you just want simple.
And if simple happens to come in the form of a WWII-style peacoat, well, then you're listening...
Introducing
Evisu
, a rebooted label of really wearable, sturdy, vintage-leaning garments from the guy behind Earnest Sewn and Paper Denim, hitting Barneys at this moment.
Now, there's a good chance you've heard of Evisu before and have some vague connotation of baggy jeans with paint on them. Things have changed—the new fall duds are the kind of jackets, blazers, shirts, pants and overcoats that feel like they've been pulled from the closet of a preppy pre-Vietnam army sergeant.
Which means you'll get the type of gear—workwear shirts inspired by '20s garments, short jackets based on navy deck jackets from the '40s and vaguely British waxed overcoats—that can survive a weekend boot camp of rigorous brunching, organized dive bar storming and regimented napping.
You've always been an aggressive napper.