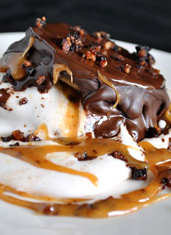 You've almost made it through the week. Right about now, you just need a little something good to pull you through the final stretch.
Like an unholy mix of bacon, chocolate, caramel and marshmallow—oh, and bourbon—shipped right to your door.
Introducing the
Bacon Moon Pie
, now available online to handle your next late-afternoon craving.
Here's what it is: it's sort of like a sandwich, with two pieces of Scottish shortbread attempting to contain the madness. But instead of butter, this shortbread uses bacon stock and bacon fat.
In the middle is a whole lot of marshmallow, which is made with Vermont maple syrup instead of corn syrup, and with Evan Williams Single Barrel Vintage Bourbon instead of water. (Won't be the first time you've subbed bourbon for water.) On top of this, there's dark chocolate, bacon and bacon caramel, which uses more bacon fat instead of milk (you know, just to keep with the theme).
So here's what you do: go online and place your order (we recommend a dozen). They'll FedEx it to you. Keep a stockpile handy. Next time you're at your computer and your eyes are glazing, throw one in the microwave for a bit. Eat it.
Note: in a pinch, the microwave can be skipped.