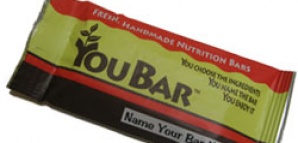 In your relentless pursuit of physical perfection, you've admittedly faced some difficult choices: the gym versus a hike, a Perrier versus...a dry martini.

But when it comes to something as simple as post-workout nourishment, your choices have always been akin to gnawing on a chalkboard versus nibbling on a tire—until now. Meet the local mother and son behind the completely customizable You Bars.

Not so long ago, snowboarding belly-dancer Ava Flynn craved high-protein and low-sugar snacks, but her USC-grad offspring Anthony, an anti-dairy marathon runner, had different needs entirely. (One word: carbs.) And so it was that they began experimenting with recipes for their own protein bars.

After word of their tasty results began to spread, their quest for personal fulfillment soon blossomed into an ingenious service for fellow athletes—just visit the charmingly rustic online system to create your own made-to-order bars from a nearly infinite combination of proteins, nuts, berries, sweeteners, seasonings and grains. (There's even an automated calorie counter.) Once you're through, their Beverly Boulevard kitchen sets to work and drops the box in the mail, each bar's wrapper emblazoned with the name you've bestowed upon it. Soon to debut: a completely redesigned site and additional products like shakes and trail mix.

Here's hoping for a protein-packed martini soon.