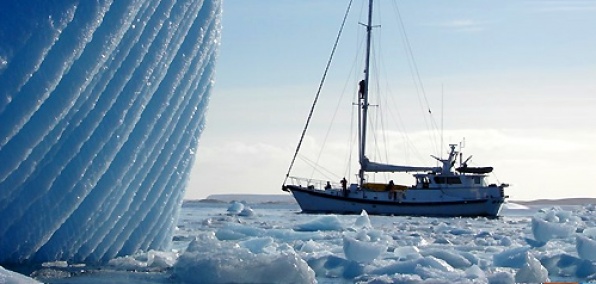 You and Alexander the Great have a lot in common. Handsome. Enjoy travel. People typically follow your name with "the Great."

And like Alex, there came a day when you realized there were no more worlds for you to conquer. But unlike Alex, you did not weep. You looked further... to Antarctica.

Introducing Ice Axe Expeditions, an ambitious group helping you take Antarctica by ski, now taking limited reservations for a trip from November 13 to December 5.

Your mission: sailing from Argentina to Antarctica, where you'll go ashore long enough to experience the coldest off-piste skiing of your life. Your ride: the yacht Australis, an old-world sailing ship, which will depart from Ushuaia, Argentina (the world's southernmost city), with two ski guides, a crew, seven passengers and you.

Your crew will be led by a guy named Doug Stoup, who was the first American to ski to the South Pole. (Our advice: stick with him.) For the next three weeks, you'll cruise the Antarctic peninsula. Each night, you'll bunk down on the boat, but during the day you'll scope out glaciers and icebergs, keep an eye on the wildlife (penguins, your bunkmate) and, of course, ski. Expect steep terrain—epic, untamed slopes, with snow previously untouched by humankind.

If Alexander had known about this, maybe he wouldn't have been such a crybaby.