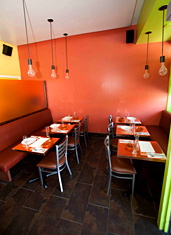 Burritos: crucial, life-supporting bullets of deliciousness.
But even with such a signature wrap of deliciousness that is the Mission burrito, there's always room for innovation.
And since you've had an
Indian burrito
, we'll up the ante and present the French burrito...
Introducing
Papito
, a dime-size Mexican taqueria that might as well have been plucked from the banks of the Seine (by way of Guadalajara), opening this Friday in Potrero Hill.
Think of this little, brightly colored Mexican/French cantina/bistro as a diplomatic meeting of two World Cup rivals in tasty, flour tortilla-wrapped harmony. Which means, this is where you'll go to put a little something extra in your rice and beans routine.
Since the place is tiny, we recommend bringing company you'll want to get to know better—whether it's at one of the half-dozen seats at the copper-topped bar or in the leather banquettes. Kick things off with some micheladas, and order tapas-style to get the best of both Mexi-Franco worlds—some pork belly quesadillas, a couple of duck confit tacos and the carne asada steak frites should get things going nicely.
And if you're concerned about the decidedly odd cultural turn your carnitas burrito has taken, rest assured that you're in the hands of the chef de cuisine for the French Embassy in Mexico City.
He's been prepping for this his whole life...