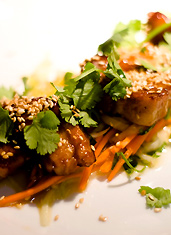 Picture this.
You're on the roof of an anonymous building, soaking in the late-afternoon sun and applying a little liquid nitrogen to some triple crème cheese.
Typical day so far.
Then you descend to a raw, totally gutted level of the building beneath, for an elegant feast amid the rubble, with 360-degree views, free-flowing cocktails and wine.
To make this happen, just get your tickets to
a razor, a shiny knife
, a futuristic secret supper club arriving in Los Angeles in a couple of weeks.
Think of this as the perfect date for when you think you've seen (and eaten) it all. We can't tell you the exact location where this is all going down, but once you get your tickets, you'll be notified. Show up around 3pm on August 7, head to the roof and things will start off with some much-needed lessons on liquid nitrogen, knife sharpening and caviar preparation.
Then come six salivating courses downstairs, soaked in cocktails and wine, taking you late into the night—everything from
Caviar and Duck Fat
to
Duck Egg and Goose Liver with Summer Truffles
. The atmosphere is something like an apocalyptic dinner party where everybody's got a secret.
Mm, apocalyptic caviar...
Note:
<a target="_blank" href="http://www.arazorashinyknife.com">a razor, a shiny knife</a>, August 7, 3pm, $161, <a target="_blank" href="http://twoperspectivesla.eventbrite.com/">tickets now on sale</a>